I like art. I'm a writer by trade — not an artist — but it's a skill I have fun trying to cultivate in my free time. Most of the time, I opt for for colorful, bold, cartoon-style art. If I bake or cook, I prefer to find ways to give it an artistic flair or creative theme. Below are my top 12 favorite crafts and creations of the past few years.
12. Mike Wazowski from Monster's Inc. Pixar Mug
Four years ago, I went through a particularly stressful season at work. It's what ultimately led me to quit my job in Seattle's tech industry — and run away to work for a local nonprofit. But in the time between, I took up painting ceramic mugs as a way to get a break from the often tumultuous and exhausting world of tech startups.
This is my first of about 19 mugs I've painted since then. It features Mike Wazowski from Pixar's Monster's Inc, (not pictured: the other side of the mug, which features WALL-E's EVE and WALL-E; see: the rest of this list).
11. WALL-E and EVE Painting
If I'm not painting coffee mugs, you can usually find me trying to re-create a scene or characters from a favorite film or TV show with acrylics. In addition to this 5×7 of WALL-E and EVE that sits on my desk at work, I've also painted Barry Allen from The Flash, an anime-style scene of my brothers and sister catching Pokemon, and an ethnically-diverse depiction of the Biblical Nativity scene. Random assortment, I know, but they're all some of my favorite things.
10. Sorry You Might Have Gotten Parasites on Your Trip Cupcakes
To be honest, I don't enjoy cooking or baking as much as a lot of people. But if I am going to take the effort to make food — it's going to be artsy or creative, or it's not worth it.
Back when I worked at a local nonprofit, someone in my office took a trip to Latin America, and felt pretty sick for about a week after coming home. The whole thing culminated in a trip to the doctor to see if they may have gotten a parasite and need de-worming medicine.
Lucky, the doctor pronounced them completely worm-free. But that didn't stop me from making a dozen worm-and-dirt cupcakes as a birthday gift, borrowing a key to their office, and hiding them everywhere: on the bookshelf, all over the desk, on the widowsill, etc. (Don't worry, we used napkins so we wouldn't ruin anything.)
9. EVE: Halloween Costume
In case you haven't noticed by now, I really like the movie WALL-E. I love pretty much all Pixar films — particularly for the way they are able to represent life: it's complexity, joy, pain, and grief so beautifully.
If I were a cooler person — more adventurous, fearless — I would want WALL-E's EVE to be my spirit robot. My affinity with her is probably more aspirational than self-identifiying, but I've always loved what a badass she is. Pixar does an amazing job creating strong and heroic female characters, something that is so crucial for young girls as they work to discover who they are, and who they think the world wants them to be, and EVE is one of their best.
For this Halloween costume a few years back, I stitched pieces of felt to a white cap, and wrapped a string of old Christmas lights around my neck. Yes, they did light up if I plugged myself into an electrical outlet, but the bulbs got hot after a while, and it wasn't very fun being stuck standing six inches away from the wall.
8. Food Wrapper Origami Cranes
I've been making origami cranes out of every piece of paper I can get my hands on — candy wrappers, pop or juice labels, Post-Its, soup wrappers, etc — since I was in high school.
My freshman year college roommate once wrote to tell me she found one in her suitcase …  a year after graduation. It's a fun way to fidget when I'm watching TV, transcribing interviews, or really, doing anything.
This particular crane was made from a can of Star Wars themed Campbell's Spaghetti O's, but Twix and M&Ms wrappers are some of my other favorites.
7. Bacon Apple Mini Pies 
For the record, I … and you may need to sit down for this … don't actually like bacon.
I know. Are you okay? I'll wait a minute. But my ex-boyfriend really liked bacon, and pie, so I figured this would be a neat mashup to try.
The best part, though, was that he felt concerned about setting a precedent of expecting me to cook and bake for him — you know, gender roles and all — so he got a marshmallow kit online to make me an orange (my favorite color) octopus-shaped (my favorite sushi) marshmallow. So he definitely won. But this mini pie was cool, too.
6. Ethnically Accurate Jesus Painting
One of my favorite books right now is Dr. Reggie Williams' Bonhoeffer's Black Jesus, which talks about Western culture's history of depicting Jesus as a fair-skinned white man, and what messages that can send to African Americans, who were enslaved, beaten, and raped by white men for well over two centuries.
It also explores Dietrich Bonhoeffer's experience getting involved with an African American church in Harlem while studying at Union Theological Seminary, and how the many things he learned about God through worship, theology, and community there helped give him the eyes to see through German Christianity's teachings on their perceived national and ethnic supremacy. Bonhoeffer's cross-cultural faith experiences are a big part of what gave him the eyes to see past Hilter's faith-exploiting propaganda and join the resistance against him.
To me, learning to see Jesus as not white is a powerful and important way to weed out footholds that white Christianity's imperialistic history still has on our theology. It's a way to continue growing in our faith, testing our theology to make sure it is in line with the truth of the Gospel, and being able to better live and act like Jesus did.
Jesus wasn't white (or black), but I've had a hard time finding historically or ethnically accurate paintings of him. So I decided to just paint one myself. Yes, his hair is probably shorter than it would have been back in the day, but otherwise, I'm pretty happy with how it turned out.
5. Kombucha with Spirulina 
I really love kombucha. Like, almost as much as I love kale juice, which is saying something. But kombucha is expensive (like $3-4 a bottle expensive), so I figured I could save a pretty decent chunk of cash if I started making it myself.
I did pretty well for a while — but then work got busy (slash I got lazy) and it ended up being too time consuming.
You can either drink the kombucha plain (if you like the taste of mildly vinegar-y black tea) but most people mix it with juice or fruit puree. My favorite is to mix it with mango juice concentrate, but this green version — that's spirulina (algae) powder — looks so much cooler in photographs. I also like to add chia seeds. Not because I think they're actually healthy for you (I read the articles, thanks), but because I'm one of the few humans on earth who genuinely enjoys eating chia seeds.
4. Elf Breakfast
This is what happens when I sign up to make a meal for a friend and they say, "It doesn't really matter what you make. We'll be happy with whatever."
I make them Elf breakfast. In case you haven't seen the Will Ferrell movie — it's mandatory viewing for my entire extended family each year, because we're awesome — this is the spaghetti-with-toppings meal that Buddy the Elf makes for his new family to thank them for letting him stay at their house. And where he's from at the North Pole, they like to stick to the main food groups: candy, candy canes, candy corn, and syrup.
Putting together the menu for my Elf breakfast was one of the most fun cooking experiences I've had. (Like I said, I only enjoy cooking if I get to be creative or artsy.) The friends I made it for were a little bit confused at first, but then I brought out the other bag, with meat and marinara sauce, salad, and other less Elf-like ingredients.
3. Roasted Peeps — Bunny S'mores
My brother, who is an engineer, likes to remind me that marshmallows have a molecular structure most similar to plastic.
But that doesn't stop me from eating copious amounts of Marshmallow Peeps, particularly because they happen to be my absolute favorite flavor: food coloring and sugar. (Not joking, btw: some of my other favorites include cotton candy ice cream, cake frosting, and cake batter frozen yogurt.)
I don't know why it took me until now to realize that I could jab a roasting stick through a Peep and make an amazing, colorful bunny s'more. It's one of my favorite discoveries of this past year. (Yes, it tastes delicious. No, I haven't caught any Peeps on fire yet — but that would be fun.)
2. The Flash: Halloween Costume
I hope this list isn't falsely representing me as some sort of Pinterest wizard. I can barely sew (though I do a mean whip stich and can back stich sorta okay 😅) and I can't crochet or knit to save my life.
But I get pretty annoyed with how few Halloween costumes are available for women that don't have "sexy" in the title and somehow seem to be made with half the amount of fabric as a normal outfit. Shockingly, I don't really feel like being a sexy firefighter, or nurse, or panda, or pizza delivery girl, or what have you.
So I've resorted to making my own Halloween costumes the past few years — including EVE, and this Flash costume. Because The Flash is definitely my favorite superhero, for about a billion different reasons.
Pixar UP-cakes
Though I like EVE best of all of the Pixar things, my favorite of their films is actually UP. The opening sequence always makes me sob — but for all of the reasons you'd want to cry. Plus, it's been said that Carl and Ellie were created based on the question "What if WALL-E and EVE were human?," so I feel like my love of the film is more than justified.
A friend and I decided last year to try making UP-cakes, which are — obviously — colorful mini-cupcakes designed to look like the balloons that allow Carl's house to fly in UP.
We achieved all the necessary colors with a bit of food coloring, and I luckily had a recreation of the UP house lying around already (from a birthday gift my friends put together the year before). If you're looking for a creative gift or birthday theme, 10/10 would suggest UP and UP-cakes.
Which brings me to one of my other favorite Pixar characters, Dug.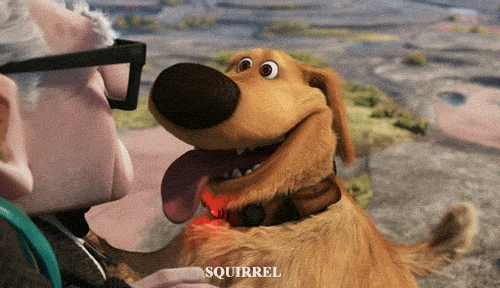 And … now I need to go watch that movie again.